News
3 November, 2017. MirTac bags contract with Scaldis for new build Heavy Lift Vessel Gulliver.
9 October, 2017. MirTac introduces Star Warehouse & Transport on Europort 2017.
Visit MirTac at Europort 2017, 7-10 November, booth nr. 5401.
Click here for free Europort registration.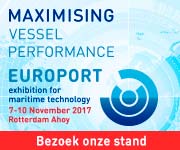 1 October, 2017. MirTac is happy to welcome BigLift Shipping as Reference.
1 July, 2017. MirTac is happy to welcome BigRoll Shipping as Reference.
24 October, 2016. MirTac bags contract with Symphony Shipping, promising newcomer in the project market. Implementation will start on her two new build DP2 vessels, Symphony Performer and Symphony Provider, to be delivered in December 2016 and April 2017.
25 May, 2016. SeaZip Offshore Service expands contract with MirTac for two new vessels. Recently, MirTac has implemented the Star Fleet Management software onboard SeaZip 5 and 6.
11 May, 2016. Universal Marine and MirTac successfully implemented Star Fleet Management software onboard the new bulkers mv Pride and mv Star II.
10 November, 2015. Anthony Veder expands StarIPS contract for four new vessels.
9 November, 2015. Successful Europort exhibition for MirTac.
26 August, 2015. MirTac introduces StarIPS Front Page on Europort 2015.
1 October, 2014. Article on Conquest Offshore MB 1's role in refloating the Costa Concordia and on its new Star fleet management system implemented by MirTac.
26 February, 2014. Conquest Offshore optimizes efficiency with MirTac and StarIPS.
18 November, 2013. Successful Europort exhibition for MirTac.
19 September, 2013. MirTac sponsors Dutch Steam Engine Museum with StarIPS and knowledge.
12 June, 2013. MirTac congratulates JR Shipping with Clipper Stad Amsterdam.
9 April, 2013. BAM International has awarded MirTac the contract to (re)organize the documentation and activities related to maintenance, critical equipment, spare parts, quality and safety management into the Star IPS fleet management system.
22 March, 2013. Promising newcomer SeaZip awards StarIPS contract to MirTac to support fleet management for its sophisticated new build offshore service vessels.
6 February, 2013. Jack-Up Barge awarded MirTac a new contract for consultancy and Star IPS implementation at its exciting new build self elevating platform, the JB-118.
9 October 2012. In the run-up to the Offshore Energy Exhibition in Amsterdam, MirTac proudly announces that Fugro Brazil, Scaldis and Holland Offshore have joined its customer base. Please drop by at Booth 405 on October 23 and 24...
28 August 2012. Scaldis chooses MirTac and Star as its fleet management system.
June 13 2012. Kornet awards new contract to MirTac for newest vessel Merweriver.
6 October 2011. Anthony Veder expands contract with MirTac.
1 September 2011. Successful audits and efficiency stimulate Jack-Up Barge to award new contracts.
26 May 2011. New pictures of Swift Drilling on the Reference Page.
Newsarchive